This Magneto-Optical Transducer sensor is a technological hardware developed by EQS Global, that allows the inspection of large areas.
Industrial companies are often asset-intensive and their daily basis operations depend fully on the performance of their assets.
WHY MONITORING
Know when and where pipelines will fail, without taking the equipment out of service
EQS developed a patented pending Magnetooptical Transducer (MOT) Ultrasonic Guided Waves that perform a large area screening with 360º mass loss detecting capabilities on pipelines, pressure vessels and other critical assets. The EQS Digital MOT system combines magnetostrictive wave generation with distributed fibre optic-based passive wave detection, to ensure up to 100 meters in length and 360º analysis.
• Better knowledge of the structural health status of monitored assets;
• Decreases the risk of high costs of abrupt stops due to failure;
• Optimization of O&M based on knowledge of the integrity of assets;
• Investment optimization
• Increased production by reducing untimely downtime
• Reduction of the installation insurance premium

REDUCE UP TO 25%
      DOWNTIME

REDUCE UP TO 15%
      IN OPERATING EXPENSES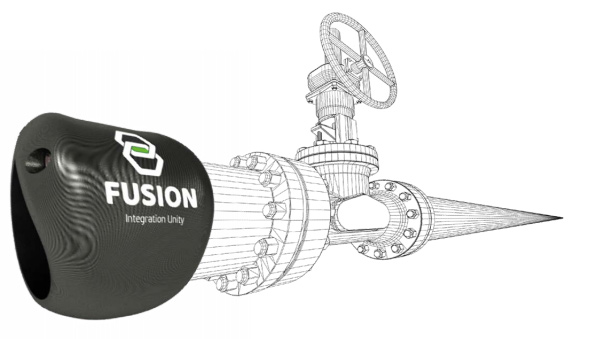 WHY EQS MOT SYSTEM
Embedded sensor for critical assets structural monitoring
MOT is a sensor capable of measuring the thickness of critical assets, considering adverse conditions (high temperature and pressure) without requiring contact to be acted upon and remotely interrogated.
The system will operate continuously, wirelessly, and in real-time.
The system will be produced by a hybrid process of Additive Manufacturing multi-material laser that will allow the customization of the product.
• Single measurement point convers large area
• Distributed measurement
• Increased range
• Improved resolution and data reliability
• Temperature mapping
• Increased location accuracy
• Angular location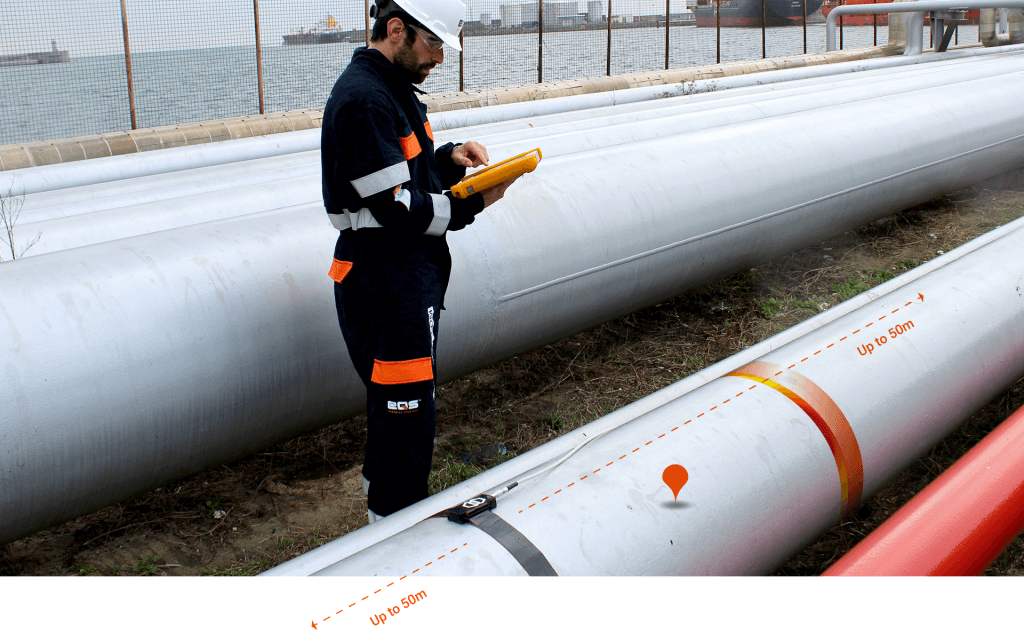 EROSION, CORROSION & SUPPORTS
The corrosion monitoring in Industrial Installations is fundamental to guarantee operationality and risks mitigating risks that can have potential material and human losses. For EQS this is a fundamental vertical for in-house solutions development.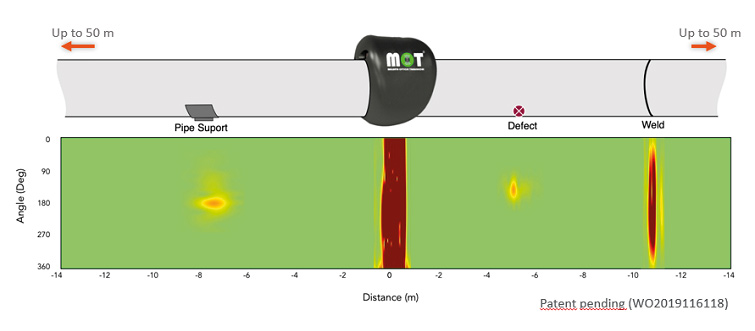 DOWNSTREAM, MIDSTREAM & UPSTREAM SUPPORTS
The best solution for monitoring when higher frequencies are required (up to 64KHz or 128KHz);

For aboveground pipeline inspection, it reduces setup inspection time, mitigates the technician dependence skills.

Cost-effective solutions from 2'' up to 24''
MOT with permanent magnets
The best solution for buried pipelines (16KHz to 32KHz)

Above ground for frequencies < 50KHz

Increases performance 6 times compared to the standard solution (magnetostrictive strip) for frequencies from 16KHz to 50KHz which means, longer inspected distances.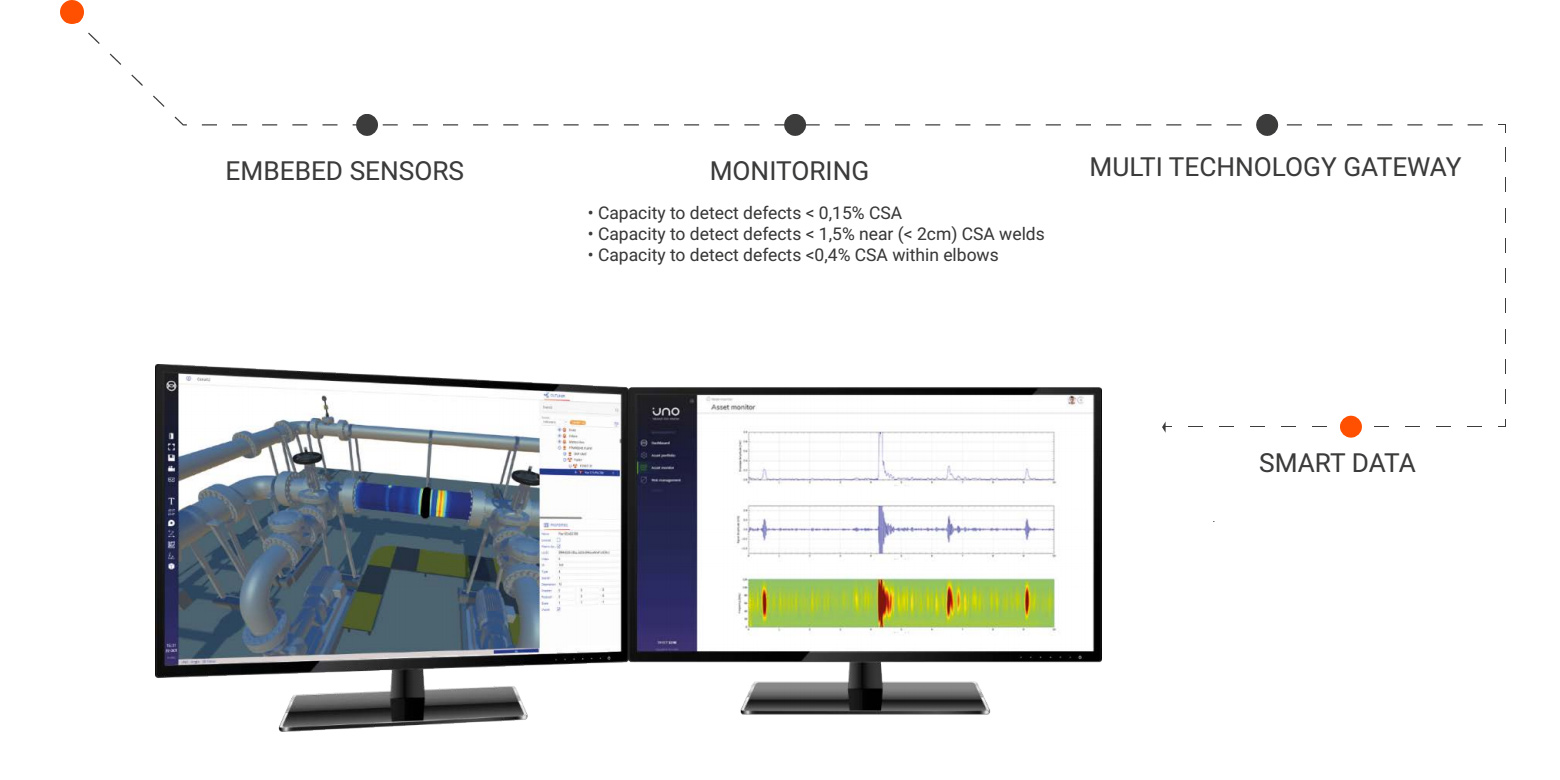 It also integrates sensor Big Data analysis software for predictive analytics, minimizing risk and improving customer decision making.
MOT compared with others technologies
Technology
Advantages
Disadvantages
Pulse-echo

Only one position required to mount the transducer;

Equipment requirements are minimal

Attenuation cannot be measured directly;

Dead-zone and near fields can be restrictive for inspections.

Through-Transmission

Can be used to accurately measure attenuation over a certain distance to correctly set DAC levels

Extra device used to receive the signal;

Access to more than one position of the pipe.

Pitch-Catch

Greater sensitivity;

Small returning echoes separated within different transducers;/

Modal noise and dead zone effects reduced;

More accurate setting of the DAC level.

More equipment and preparation required.
TRUSTED BY THE
MOST DEMANDING INDUSTRIES